Electronic Data Interchange (EDI) is a standardized method for exchanging business documents between different companies. Healthcare organizations, in particular, use EDI to transfer clinical and administrative data among patients, healthcare providers, insurers, and other relevant entities. EDI supports the exchange of vital records like medical records, billing information, eligibility inquiries, claim status, and other crucial health-related data. For more information on EDI, check out our EDI blog post!
Book An
Appointment
Book a Discovery Call with Our Team Today to Discuss Your EDI Needs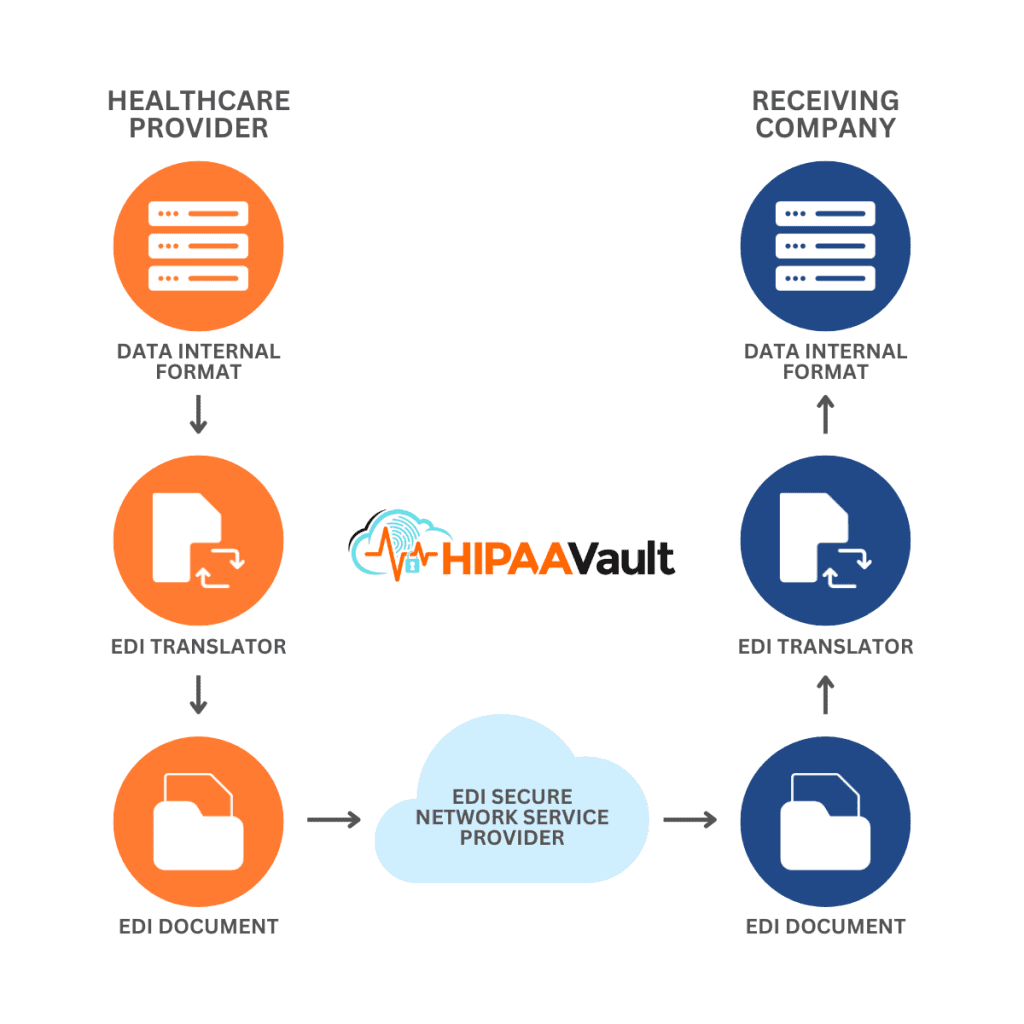 HIPAA Vault – Your Partner in Compliance
As a leading managed service provider, HIPAA Vault simplifies the process of achieving EDI compliance, making it effortless and stress-free. We bring in-depth knowledge of HIPAA rules and regulations, and couple it with our technical expertise to design and manage solutions for your EDI systems that align with HIPAA standards. By conducting regular risk assessments, hosting a secure network to transfer EDI documents, implementing robust security measures, and offering 24/7 monitoring, we help ensure your EDI data remains private and secure at all times. With HIPAA Vault, compliance is no longer a daunting task, but an achievable goal.
Case Study
A prominent university found itself faced with the challenge of managing a large database containing information about students, employees, and postdocs. The university had managed to extract a subset of this vast sea of data, specifically focusing on details pertaining to individuals and families eligible for enrollment in a dental plan. This data, in CSV format, needed to be converted into a standardized EDI 834 document format and securely transmitted to their dental provider.
Converting this data to the EDI 834 format prior to transmission was essential because EDI 834 is the standard format adopted by the healthcare industry for benefits enrollment and maintenance. This format ensures there's consistency in the way data is structured and presented across different healthcare organizations. Moreover, converting data to the EDI 834 format was essential to the university's data security during transmission, which is crucial for maintaining HIPAA compliance and safeguarding sensitive healthcare information.
The HIPAA Vault team leveraged our expertise in EDI compliance and data conversion to help the university with the required data conversion. One of our experienced Software Engineers created a custom script to convert the university's CSV file into the appropriate EDI 834 format, maintaining the integrity and security of the sensitive data throughout the process.
Encouraged by the success of this project, the university and HIPAA Vault have entered into discussions to create a similar system for the university's vision insurance carrier, further expanding the footprint of EDI solutions in healthcare data management. This case validates HIPAA Vault's commitment to providing tailored, HIPAA-compliant EDI solutions that meet unique client needs and contribute to enhanced patient care.
Do you need help with setting up or optimizing your EDI System? Contact our Sales Team today at Sales@Hipaavault.com or (760) 276-3965!
Hear What Our
Customers Have to Say
I am really pleased with HIPAA Vault! The HIPAA Vault – secure email is essential for my job as a mental health therapist and I think the structure is clean and easy to use. The sales and customer support teams are also incredible… Regarding customer service, when I sought clarification (many times!) over a particular concern I had, they came to my rescue by patiently explaining both what caused the problem and offered appropriate solutions with an impressive response time. I highly recommend HIPAA Vault for HIPAA-compliant email services.
The team at HIPAA Vault are consummate professionals. They perform for us just like they were on our payroll – which is what you want and need from your frontline protection against the bad actors out there. And they gave us the same support when we were just starting out as they do now that we are 10 times the size! Their service is top notch.
Great support team with a very strong offering.
HIPAA Vault has provided excellent customer service to my web development team. They are quick to respond to all support tickets and offer advice to keep our sites running smoothly and securely. Everyone I have talked to maintains a professional attitude and is clearly focused on providing the best service possible.
Making the right decision when choosing a HIPAA-compliant partner is critical to an organization's success, and the clear benefits of HIPAA Vault make them the obvious choice. Their expertise and understanding of my particular needs allow me to be confident in their services; from proper system design to compliance checks and monitoring – allowing me to focus on reaching business goals and further growth.
Excellent customer service and quick response to any inquiries. Smooth and high quality full service provider that I recommend for those looking for a solid partnership in a hosting company. 7 great years with HIPAA Vault – and no issues along the way. Thank you HIPAA Vault!!!