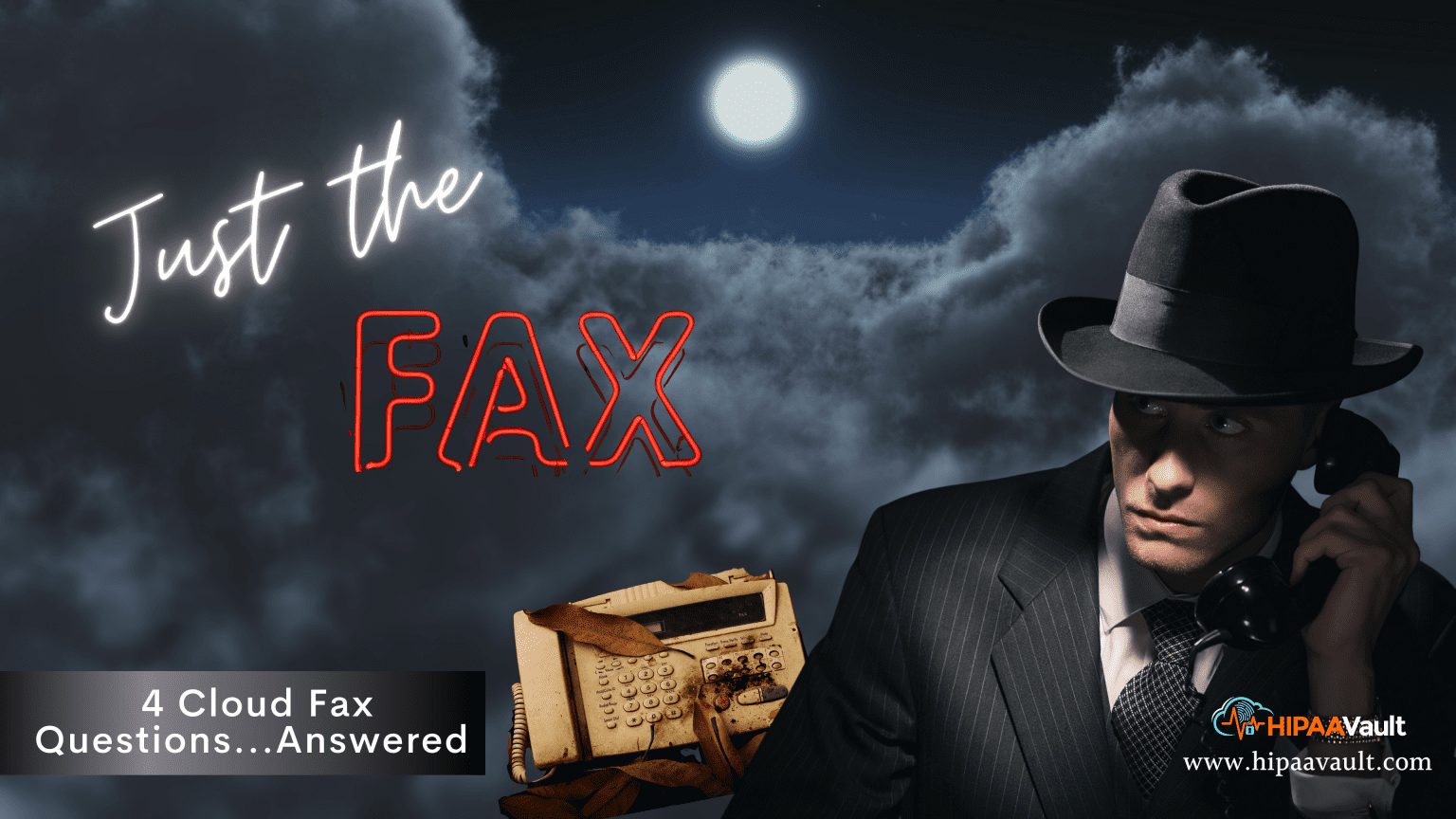 "All we want are the facts…" You may remember Sgt. Joe Friday's classic Dragnet line, later shortened to "Just the facts, ma'am" (with a little help from comedian Stan Freberg and his hilarious Little Blue Riding Hood sketch).
The reminder is apt: whether solving a crime or investigating a compliant IT solution, the imperative of getting your "facts straight" goes without saying.
If you're seeking truth, it helps to start with some good questions (based on some commonly held propositions), gather evidence, and seek to ascertain the facts that undergird the proposition. Just ask Sgt. Friday: critical thinking 101.
Now let's apply the principle to seeking a HIPAA compliant fax solution. What are the facts about the fax?
To help in your investigation, here are 4 accepted propositions about protected health information (PHI), each with a key HIPAA Fax solution question that follows:
Proposition One: Data protection for PHI is essential for HIPAA compliance, necessary for any fax solution.
Key Question # 1: How will data be protected with HIPAA Fax?
According to an IBM Security Study, the average cost to resolve a healthcare data breach in 2020 was $8.6 million. Clearly, healthcare information continues to be prized by hackers for its value on the black market, and/or to be held for ransom.
The real crime here is that patients can suffer. For this reason, security solutions are required (by the HIPAA Privacy Rule) to preserve the integrity, confidentiality, and availability of PHI. Healthcare providers can't treat you without the facts – that is, your personal facts.
HIPAA Fax is a cloud-based solution that disguises sensitive data to prevent unauthorized viewing or use. Unlike traditional fax machines, all data is secured – both at rest and in transit – using advanced 256-bit SSL encryption.
In addition, all HIPAA Fax web interfaces and APIs have secured HTTPS connections. And as with all our compliant solutions, HIPAA Vault signs a business associate agreement (BAA) as a pledge to do our part in securing your data and maintaining risk management.
Proposition Two: Healthcare must aim for Zero-Trust security, which helps facilitate HIPAA compliance and extends to all users.
Key Question # 2: How are HIPAA Fax users individually identified and authenticated?
Users of HIPAA Fax are individually authenticated via advanced admin controls with user permissions established in coordination with HIPAA Vault. All system access points require authentication to log on, include two-factor authentication, and have auto-timeout on sessions to prevent viewing when left unattended.
Further, in keeping with HIPAA's requirement for logging, all document transmissions and log-on/log-off events are recorded, along with the associated IP addresses.
Proposition Three: Cloud-based healthcare systems and associated productivity solutions require internal and external security against vulnerabilities.
Key Question # 3: How does HIPAA Fax protect against vulnerabilities?
In addition to the encryption mentioned above, HIPAA Fax utilizes distributed DDoS mitigation plans and tests the system continually for internal security and vulnerabilities.
Further, all web servers, application servers, and database servers are housed in state-of-the-art secured facilities with fully redundant systems, so you won't lose your data.
Proposition Four: Data availability is indispensable for timely healthcare treatments.
Key Question # 4: How does HIPAA Fax provide for the timely transfer of data?
HIPAA Fax doesn't rely on a single carrier to route all fax transmissions; rather, we leverage an entire network of premium Tier-1 carriers across North America. The most efficient and reliable fax routing is chosen to ensure your information gets to its destination.
HIPAA Fax also uses several fax protocols to ensure delivery, and our lines are 100% dedicated to fax to optimize delivery.
The Final Fax on the Matter
Here's another proposition you can bank on: a HIPAA compliant, secure cloud fax solution depends on a fax provider you can trust. HIPAA Vault's years of proven security expertise and 24/7/365 dedicated personal service means we're here for you – and that's a fact.
Cost savings, greater peace of mind, and a simplified, secure process of sending and receiving faxes – along with ample storage and an automatic record of transactions – make the facts clear: HIPAA Fax is the solution you need!
HIPAA Vault is the leading provider of HIPAA compliant, managed cloud solutions, enabling healthcare providers to secure their sensitive, protected health information from data breaches and security vulnerabilities. For more information on HIPAA Managed Hosting and Cloud Solutions, contact HIPAA Vault today! 760-290-3460
Skip to content