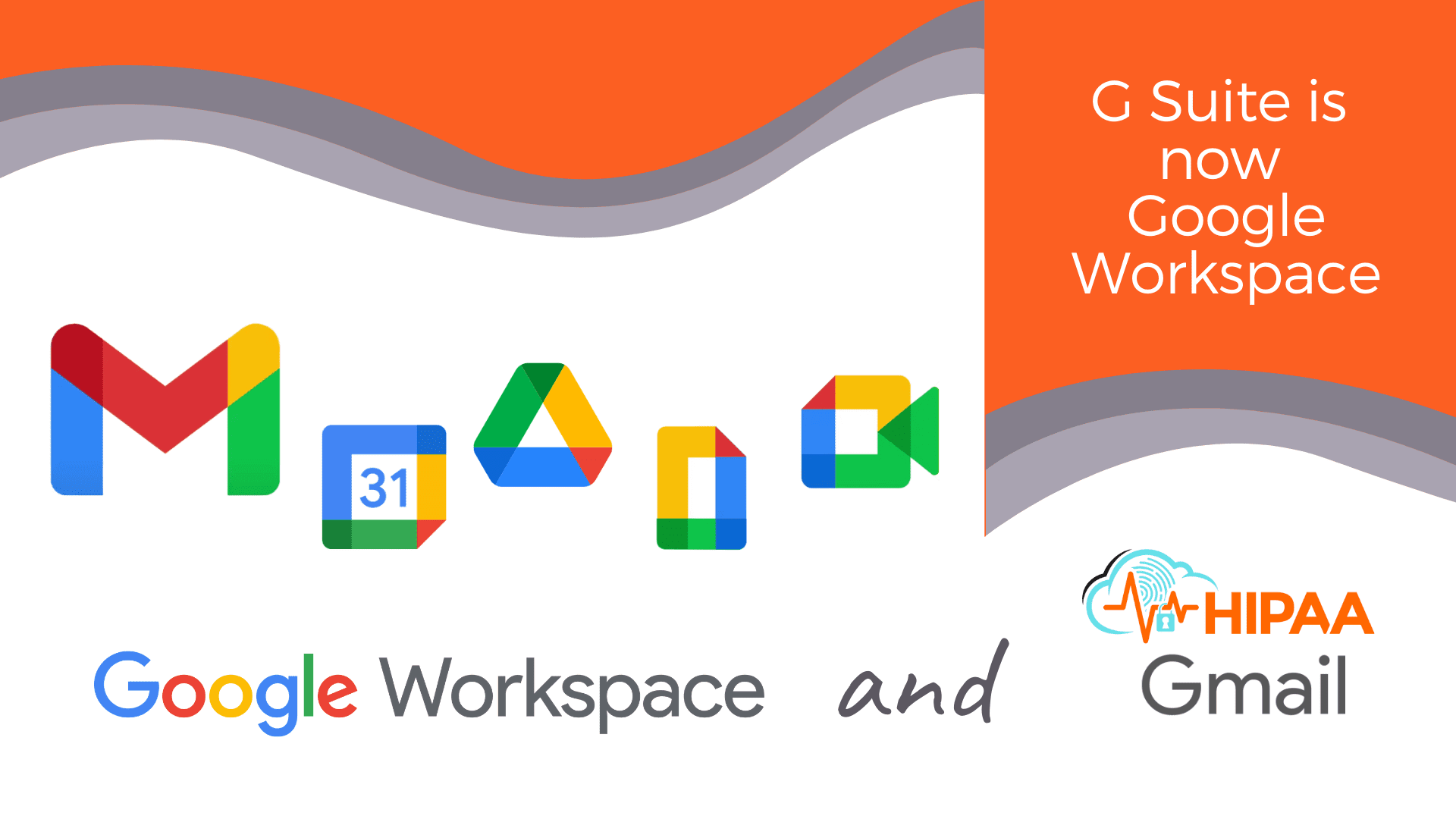 Google's acclaimed suite of collaboration and productivity tools – including Gmail, Drive, Docs, and Meet – recently got a makeover, and a new name: Google Workspace.
Before diving into what's new, customers of HIPAA Vault's popular HIPAA Gmail will be glad to know they'll be unaffected by the rebranding of G Suite to Google Workspace; we'll still require the business version of G Suite/Workspace, but there's nothing for you to change, and the good news is that pricing stays the same.
So What's Different About Workspace?
Besides the name change, only the look of the logos (same shapes, but with more rainbow and less solid colors – see above) and some improved functionality are involved in the rebrand. Existing features will continue.
So why, you may ask, did Google change the name? With over 6 million satisfied customers using their suite of tools, it would appear they'd already found success.
The answer is that Google wanted to roll out some improved collaborative features, as well as to solidify a single, integrated hub for remote teaming (the tech giant saw a spike of millions using their Meet video platform during the pandemic), and the rebranding simply marks the new and improved version.
The changes center on what can be accomplished while in Gmail itself, and they're pretty cool. While checking an email, you can now do all the tasks necessary to instantly set up a new project: respond to the email, check your calendar for dates, create a new chat room with your team, carry on an existing chat with someone (or see when they'll become available), collaborate more easily on Docs, Sheets, and Slides, and so on – all without opening a new tab for each, or leaving Gmail to accomplish those tasks. (You can watch a short demo here).
While there's a bit of scuttlebutt (isn't there always?) about the new Workspace logos not being an improvement aesthetically – making it more difficult to distinguish them when small – the added functionality is well-suited to a world of increasing virtual meetings. The option to see your team members in Google Meet is now available (an alternative to Zoom), as well as a Picture-in-Picture (PiP) extension in the chrome store to watch videos in a floating window.
What about pricing changes for Workspace? As mentioned, this will stay the same ($12 per user/month for Business Standard), though Google has added a Business Plus tier of $18 per user/month. Business Plus upgrades the Standard tier with enhanced security and more storage per user, and also increases the allowable number of video meeting participants.
HIPAA Vault is here to answer any questions you might have about HIPAA Gmail with Workspace. Talk to us today: 760-290-3460, or visit www.hipaavault.com.
HIPAA Vault is the leading provider of HIPAA compliant solutions, enabling healthcare providers, business organizations, and government agencies to secure their protected health information from data breaches, threats, and security vulnerabilities. Customers trust HIPAA Vault to mitigate risk, actively monitor and protect their infrastructure, and ensure that systems stay online at all times. In addition to providing secure infrastructure and compliance for health companies, HIPAA Vault provides a full array of HIPAA compliant cloud solutions, including secure email, HIPAA compliant WordPress, secure file sharing, and more.
Skip to content