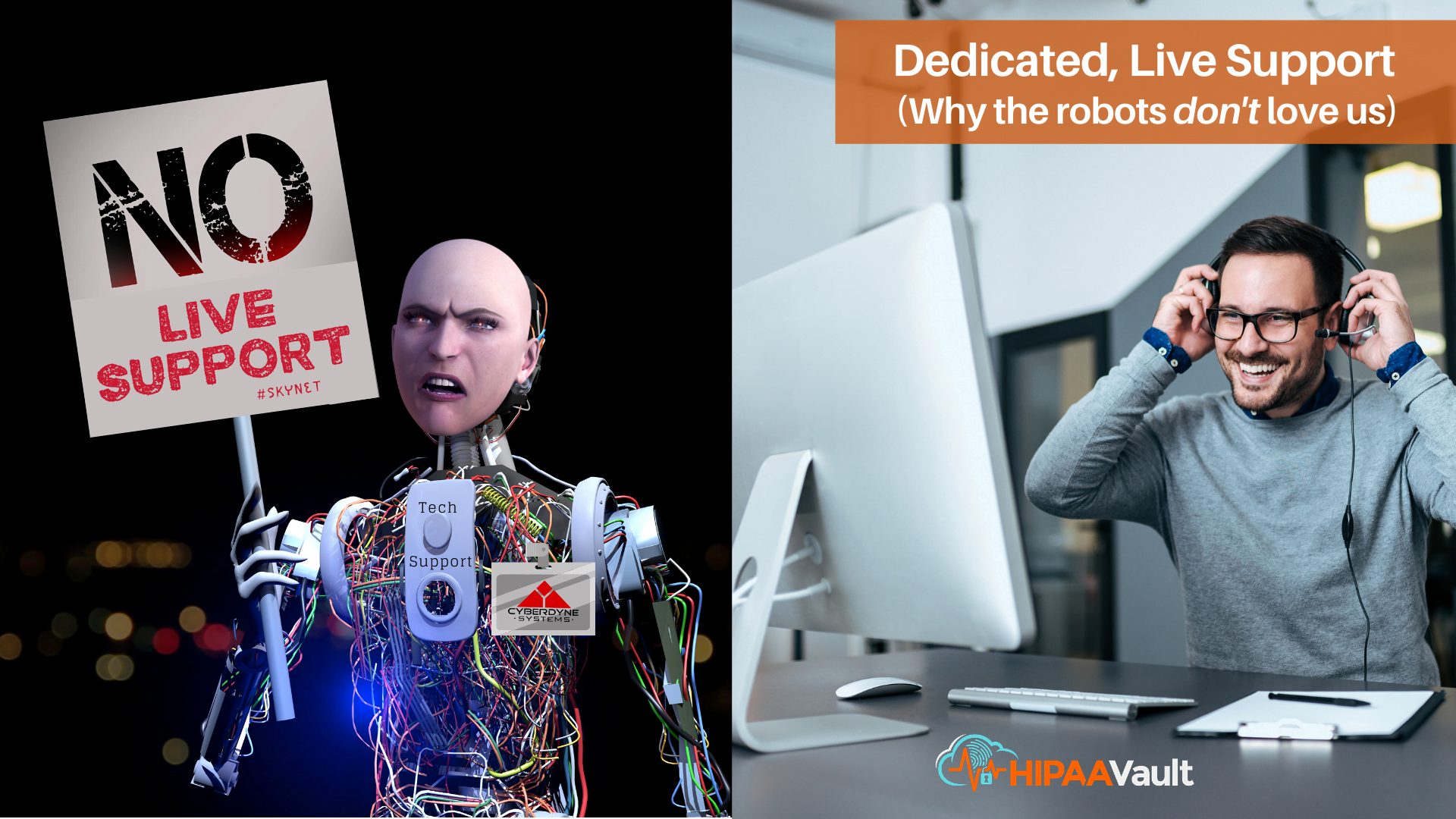 Don't be part of the 15%
When you choose HIPAA Vault's HIPAA compliant cloud solutions, you make a smart choice for less frustration in your cloud provider.
Here's a major reason why: it means you won't be part of the 15% in 2021 that Gartner is predicting will jettison their valuable "company-consumer touchpoint" of customer service, and look outside for help "after being frustrated by traditional support channels."
(In fact, we think this 15% number is quite low. Some surveys indicate that as many as 96% of customers express a willingness to leave a competitor after just one negative customer service experience).
In contrast, our goal is for you to feel what one of our satisfied customers did – and felt compelled to share with us:
"You guys have been more than professional and helpful at all phases – truly mind-blowing levels of support. I would recommend you to anyone looking for a world-class team of HIPAA IT support…You guys have offered the best IT support experience I've ever had in my lifetime."
– E.B., Healthcare Group
Wow – that's encouraging. It tells us that our priorities are in the right place as we continue to focus on personalized, dedicated support.
Sorry Robots – We Choose Real People
Today's methods of communication may have greater flexibility than ever before – from phone calls to online chats to email and SMS – but it's the power of interpersonal conversation, as one recent study notes, that continues to be irreplaceable as technology changes:
"A conversation is memorable, meaningful and important to the way humans relate to each other. Only in a conversation can people convey empathy… people want to discuss, ask questions, and understand from other people. Whatever method they are using to communicate, conversation remains at the heart of those engagements. True conversation – on the phone with a real person – is so much more valuable to both the vendor and the recipient. In a digital world, conversations are even more powerful."
So as the world trends toward automation and bots in customer service, we're standing firm on conversations. Quite simply, we believe you can't have true, personalized service that's able to handle the complexities of human conversations with a machine (sorry Siri and Alexa).
That's why we will maintain the following 3 core convictions for serving you:
dedicated, US-based personal service (no robots or answering machines)
seamless customer resolution; and,
less than 15 minute response times for critical alerts, with our over 90% first-call resolution of any technical difficulty you might be facing.
Dedicated, US-based Personal Service
It shouldn't be earth-shaking news; yet a growing chorus of customer service experts will tell you: underneath it all, human kindness is a key to understanding. (You don't need statistics to prove that we all desire that).
Further, committed, developed relationships are key to perceiving another person's nuanced struggles and needs. Only then are you equipped to address the real needs and dispense expert advice. At HIPAA Vault, we're told that's a primary reason our customers stay with us: they know a real human being understands them – which is something we all long for at a foundational level. So we make it our goal to listen first, seek a shared understanding, then act immediately to solve their problems with proven, cutting-edge solutions.
Seamless Customer Resolution
We like to call this aspect of customer service our tier-less (or tear-less) support. In other words, you won't face the frustration of being handed off to yet another support person to explain things all over again, because we train all of our technical specialists to handle your call. You also won't get stuck on an automated phone tree, because your dedicated, live support person is present and fully equipped to handle your support issue(s).
Less than 15-minute Response Times
Delays and downtime aren't usually a good thing – especially in an industry like healthcare when patient care is at stake.
Our commitment to you, 24/7/365, is to maintain less than 15-minute response times and 90% first-call resolution. Again, we do this because we know how important high availability of data is to your practice.
So what does this purposeful focus on dedicated, live support mean for your business? It means our trusted cloud experts are in your corner. Think of us as an extension of your company.
At HIPAA Vault, we're committed to listening, growing with you, and staying flexible enough to customize solutions that best meet your needs.
HIPAA Vault is the leading provider of HIPAA compliant solutions, enabling healthcare providers, business organizations, and government agencies to secure their protected health information from data breaches, threats, and security vulnerabilities. Customers trust HIPAA Vault to mitigate risk, actively monitor and protect their infrastructure, and ensure that systems stay online at all times. In addition to providing secure infrastructure and compliance for health companies, HIPAA Vault provides a full array of HIPAA compliant cloud solutions, including secure hosting and email, HIPAA compliant WordPress, secure file sharing, and more.
Skip to content