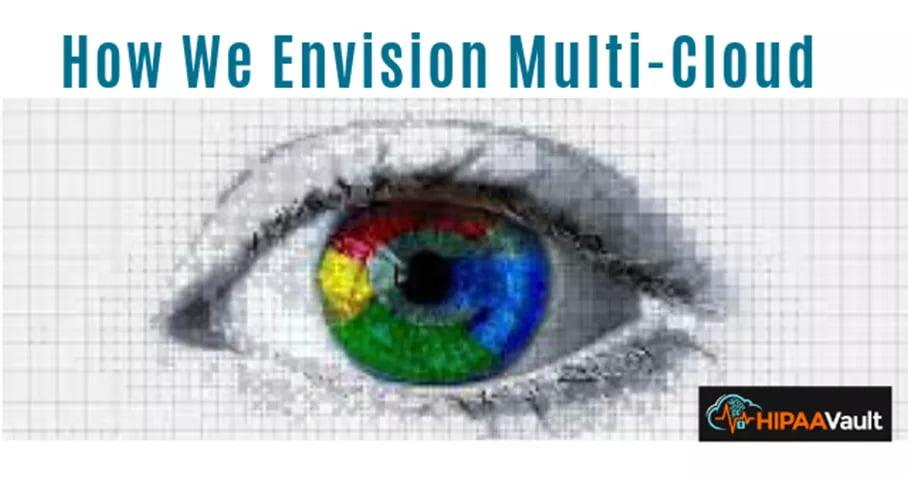 The clouds are gathering, so to speak. Multi-cloud technology is no longer on the horizon – it's here.
Traditionally, healthcare organizations have been slow to embrace the benefits of the cloud, rightfully focusing on the need for essential data security. An MSSP like HIPAA Vault helps alleviate those concerns, by providing a 24/7, managed cloud environment, able to weather the storms of targeted, malicious attacks.
But the possibility of having workloads locked into "the wrong cloud provider" has always been troubling – a negative towards the goal of business flexibility. Why not be able to enjoy the benefits available through other providers – unless such cloud diversifications are too daunting for one organization's environment, or expensive to achieve?
For the MSSP, the idea of deploying in various environments usually means juggling things like APIs, identity and access management, app sprawl across multiple clouds, and increased infrastructure tasks like VM maintenance and OS patching for security. Adding new, open-source and paid skill sets to manage and support our customer's environments is also key.
Google's answer to the multi-cloud challenge, Anthos, represents a giant leap forward in simplifying those operational concerns. An entirely new and open platform, Anthos allows us to deploy, run, and manage applications on the cloud of your choice – even third-party providers like AWS and Azure. Now, the benefits inherent in each of those clouds can be harnessed, providing greater flexibility for your business.
For HIPAA Vault, the ability to achieve this multi-cloud flexibility on behalf of our customers is a welcome benefit. Here are some of the key advantages that we envision:
Environment Resiliency: We can auto-migrate your VMs from on-premise or other clouds directly into containers in Google Kubernetes Engine (a powerful cluster manager and orchestration system for running your Docker containers) with minimal effort.
Compliance:

Anthos

allows us to automate policy and security at scale, across deployments. Customer data can also remain in prescribed geographical boundaries, aiding regulatory concerns.

Simplification:

Anthos

is simpler to operate, simpler to secure, simpler to modernize, and simpler to write. It's also completely software-based, so it can be run on existing hardware.

Efficiency:

The ability to focus more on managing and developing applications increases business agility, and allows your products to get to market faster.
The freedom to modernize, any place, any time – on-premise or in the cloud – is a significant advantage in the growing adoption of multi-cloud architectures. As we see the clouds continuing to gather, HIPAA Vault welcomes Google's Anthos platform as a step forward, helping us remain a one-stop, data-protection shop for our customers.
HIPAA Vault is a leading provider of HIPAA compliant solutions, enabling healthcare providers, business organizations, and government agencies to secure their protected health information from data breaches, threats, and security vulnerabilities.