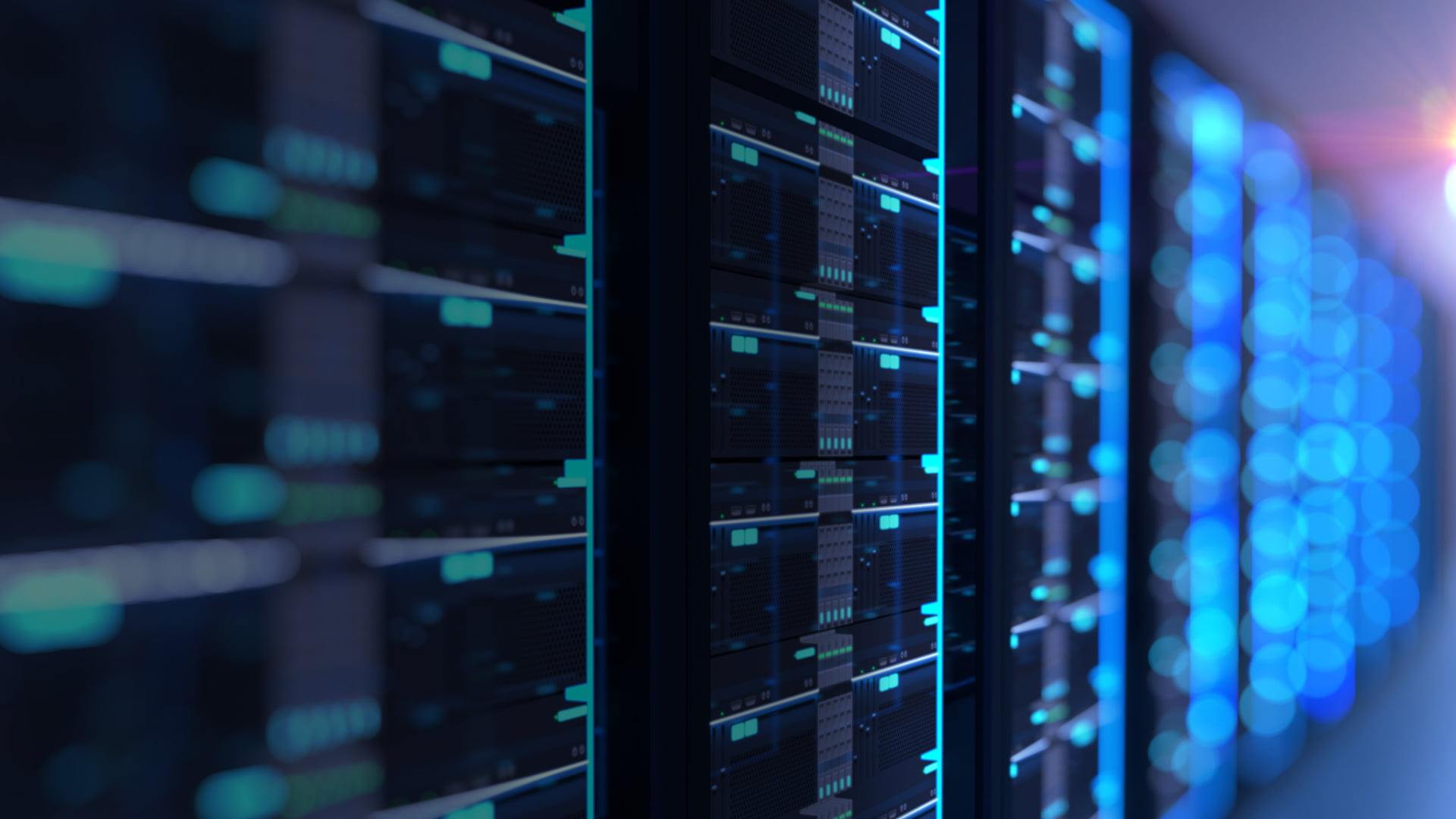 A Secure, HIPAA Compliant FTP Server
Your Business Can Count On
sFTP Secures And Protects Files During FTP Transmission
Get all your Queries Resolved
Contact Us

Download HIPAA Checklist
HIPAA Compliant Hosted sFTP Server:
Built with Security in Mind
Know that your organization can always count on the inherent security of its sFTP server by taking advantage of sFTP as a service. Let us manage compliance, vulnerability scans, and much more while your staff access hosted sFTP information as needed.
Our cloud-hosted sFTP servers offer an exceptionally high degree of reliability and security. You can count on cloud sFTP solutions, including active oversight and regular maintenance, to address your company's HIPAA compliance needs.
Achieving HIPAA Compliance with Secure FTP Hosting
HIPAA Vault's HIPAA Compliant sFTP Server is built with security in mind and is ideal for automated processes that include the transfer of electronically-protected health information (ePHI).
HIPAA Security Standard §164.306 requires covered entities and their business associates to ensure the integrity, confidentiality, and availability of ePHI, both at rest and in transmission. These HIPAA protections require data servers to be effectively configured and maintained to:
Preserve Data Integrity – Anticipate any hazards/threats to ePHI, and take all necessary steps to protect it from data loss or corruption.
Preserve Data Confidentiality – Anticipate the potential for unauthorized access and disclosures, and protect against them.
Preserve Data Availability – Ensure data accessibility for required levels of performance, and implement necessary security policies and procedures (including redundancy, network protection, and optimization) to maintain availability.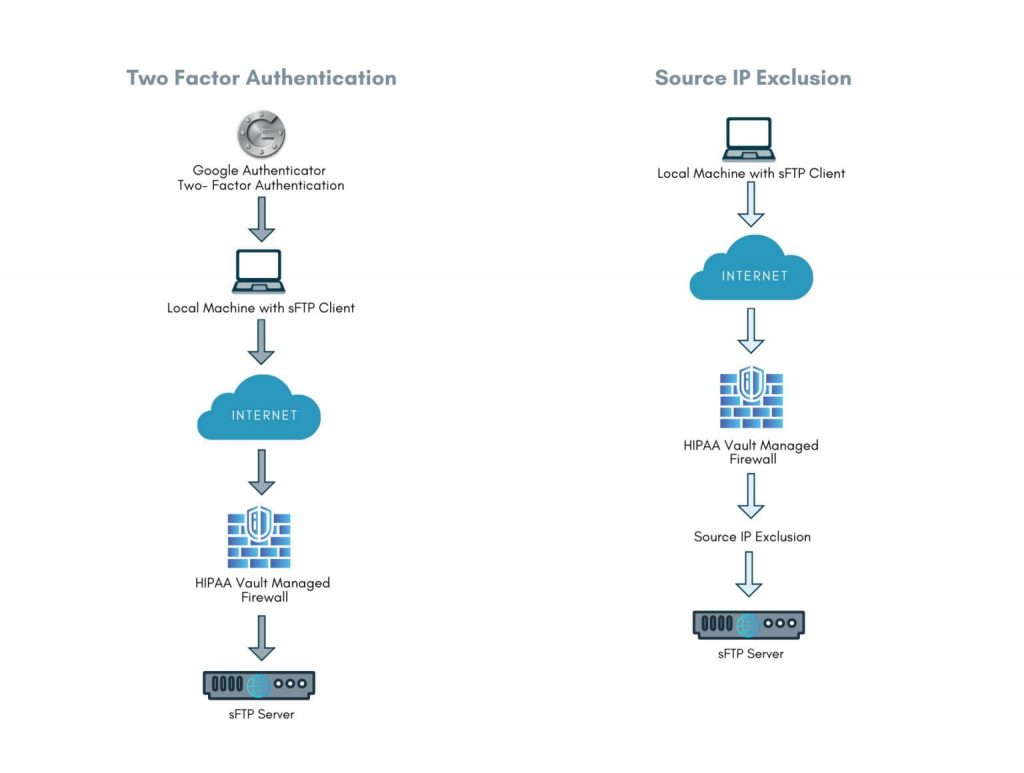 In addition to providing a secure connection for the data stream, HIPAA Vault's Secure FTP Server provides a host of resources for protecting sensitive data and maintaining HIPAA compliance.
Several layers of protection are utilized, including Anti-Virus, Anti-Malware, Vulnerability Scanning, Host Intrusion Detection, Password Management, and Advanced Encryption. In addition, our sFTP server is highly scalable, allowing you to add or subtract storage as needed.
Find the Hosted sFTP Server Access Option that Best Serves Your Needs
HIPAA Vault offers two options for allowing access to the sFTP server:
1) Two Factor Authentication (2FA), which adds an extra layer of sign-on security for users; or,
2) Source IP Exclusion, in which scripting can be used to control which IP addresses are blocked from server access, and which are allowed.
Let us focus our expertise on managing the technological side of HIPAA compliance with sFTP hosting while you focus on the core of your organization.
When you partner with HIPAA Vault, you gain a knowledgeable, committed, and highly skilled technological resource. We deeply understand your compliance obligations and make it our absolute highest priority to effectively address those needs.
All of our HIPAA Compliant Hosting Cloud Solutions Come With:
True HIPAA Guarantee and Compliance
Fully Managed Services
Live 24/7 Support
Up-to-Date Security
State-of-the-Art Data Centers
30 Day Money Back Guarantee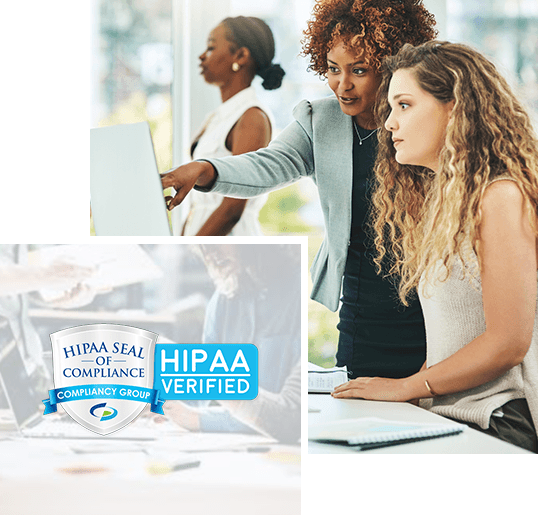 Our Managed Services
Included In All Of Our Hosting Plans
BC/DR
Two-Factor Authentication
Managed Firewall Rules
IDS & IPS
Anti-virus Protection
Custom IP Reputation
Host Intrusion Detection System
Web Application Firewall
Logging
Vulnerability Testing
Multi-tenant Isolation
Server Hardening
Anti-DDoS Management
SSL Certificate & Management
SIEM & Logger
Onsite/Offsite Backup
Bootless Kernel Updates
System Monitoring
Hear What Our
Customers Have to Say
I am really pleased with HIPAA Vault! The HIPAA Vault – secure email is essential for my job as a mental health therapist and I think the structure is clean and easy to use. The sales and customer support teams are also incredible… Regarding customer service, when I sought clarification (many times!) over a particular concern I had, they came to my rescue by patiently explaining both what caused the problem and offered appropriate solutions with an impressive response time. I highly recommend HIPAA Vault for HIPAA-compliant email services.
The team at HIPAA Vault are consummate professionals. They perform for us just like they were on our payroll – which is what you want and need from your frontline protection against the bad actors out there. And they gave us the same support when we were just starting out as they do now that we are 10 times the size! Their service is top notch.
Great support team with a very strong offering.
HIPAA Vault has provided excellent customer service to my web development team. They are quick to respond to all support tickets and offer advice to keep our sites running smoothly and securely. Everyone I have talked to maintains a professional attitude and is clearly focused on providing the best service possible.
Making the right decision when choosing a HIPAA-compliant partner is critical to an organization's success, and the clear benefits of HIPAA Vault make them the obvious choice. Their expertise and understanding of my particular needs allow me to be confident in their services; from proper system design to compliance checks and monitoring – allowing me to focus on reaching business goals and further growth.
Excellent customer service and quick response to any inquiries. Smooth and high quality full service provider that I recommend for those looking for a solid partnership in a hosting company. 7 great years with HIPAA Vault – and no issues along the way. Thank you HIPAA Vault!!!
Our HIPAA Compliance Blog
Check Out Our Latest News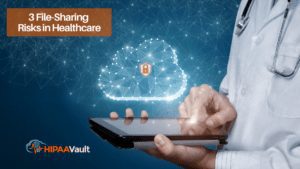 …and How a HIPAA Compliant File Sharing Solution Can Help Are your medical file sharing practices HIPAA compliant? What does…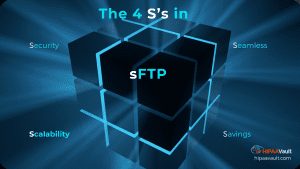 Things are not always as they seem… especially in the world of data security. We like to assume attacks are…